Hello Lee County School District, We are expecting an ice storm to impact our area over the next coming days making road conditions unsafe for travel. For the safety of students and staff, tonight's basketball game against Osceola has been canceled. Tomorrow's game against Kipp has been tentatively rescheduled for Thursday, February 2, 2023. In addition, due to the weather forecast, the Lee County School District will be closed tomorrow, January 31, 2023 and February 1, 2023. There will be no after-school activities, athletic events or practices. All offices will be closed. We will inform you if we must extend the school closure for this week. We will communicate a plan to make up days. The assignment that are being sent home with students are reinforcements to prior learning. Please encourage students to practice their learning. The safety of our students and staff is our top priority. Please look for updates here and on our website at lcsdtrojans.net. Be safe and thank you for being a part of the Lee County School District! Superintendent Stone

Good Morning High School Parents, Tomorrow January 27, 2023 the high school will be having an awards assembly at 8:45 a.m. Please come out and support the students as they receive much deserved awards!

Due to the severe storm predictions, we will dismiss the after school program at 5:00 p.m. We want to make sure that all students and staff get home safely.

Good morning LCSD, School is in today, but we do understand the weather related conditions. There are some roads that are impassable; therefore buses will not be able to pick up some students. The district will work with both staff and students who are not able to attend today due to this issue. Today, there will be no after-school tutoring. Staff and students will be dismissed to return home immediately after-school as some roads may still be problematic and it gets dark early.

Good evening LCSD, Thursday, December 15th will be our Fine Arts Showcase beginning promptly at 5:30. We will showcase Visual Arts, Drama, Band and Choir. Do not miss this event. Scholars have been preparing for a great showcase! Leave this event and walk down to the gym and support the basketball game.

Hello LCSD, Today, after school tutoring will dismiss at 5:00 p.m. due to the potential of bad weather. We want every one to be get home safely. Thanks for your understanding.

Hello LCSD For now, school will be open and run on a regular schedule tomorrow, but all after school events are canceled. We are following the severe weather prediction and will monitor schedules for the safety of our students and staff as necessary. Please watch our website and look for messages from the District. Thank you for understanding, Micheal Stone

Get Excited LCSD! After your family time, come out November 26, 2022 at 4:00 and enjoy a fun filled evening at the James Bank Classic! The Trojans Booster Club will be sponsoring fun crowd activities. Come out and have fun some fun with us!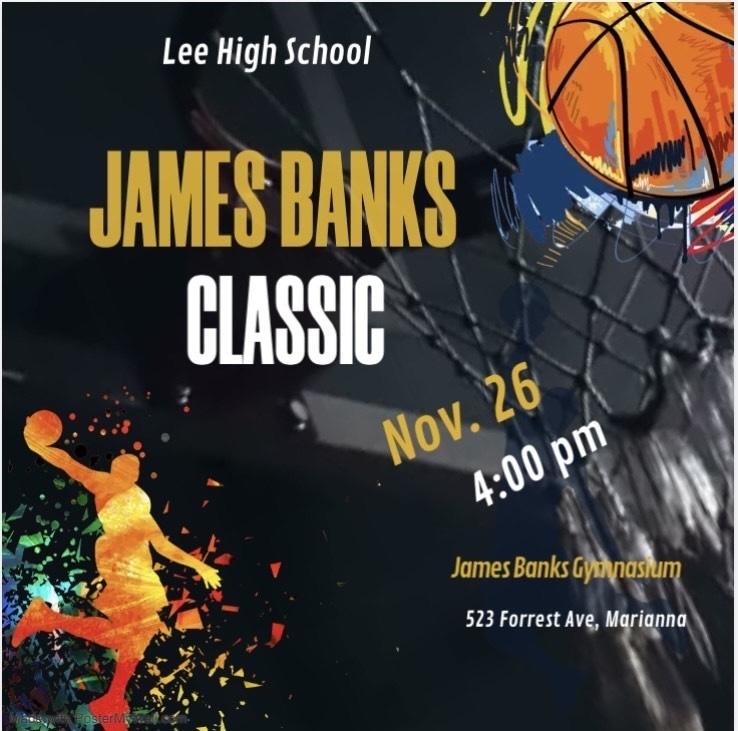 Hello LCSD, The Lee County School District will be celebrating theThanksgiving Holiday break beginning Monday, November 21-25, 2022. Most offices will be closed. Please enjoy your time with family and friends. Note: Students will be getting out at the regularly scheduled dismissal time (3:00 p.m.).

Hello Lee County, Come out and support the basketball teams as they play their first home game. All students 6th grade and younger must be accompanied and supervised by an adult throughout the basketball games. Thanks,

Good Morning LCSD, The Annual Report last evening was great! I want to thank all the participants for presenting (students and staff). I especially want to thank the families and community who were in attendance. You ALL make the difference in the success of the school district. Student's First ALWAYS!



Hello LCSD, We will have our Annual Public Meeting on November 7, 2022 in the Lee High School Auditorium. The purpose of the meeting will be to share student progress and district plans. We are excited about the growth of students and cannot wait to share with you plans for future success. The meeting will begin at 6:00 p.m. We want to see you there!

Good afternoon LCSD, Sunday, October 23, 2022 at the Lee High School Auditorium you are invited to see FURBUSH (A play based on the life and times of William Hines Furbush). Showtime is 2:00 p.m. Don't be late and see you there!

Calling all TROJANS fans! The football team will be hosting Earle in a home game this Friday night (October 7, 2022). Come out and support our athletes! Game time is 7:00 p.m.

Good afternoon LCSD, We are proud recipients of 75 new chrome books and covers given to us from Delta GEAR UP/ Phillips Community College of the University of Arkansas (PCCUA). Thank you GEAR UP for partnering with us to educate our scholars!

Hello LCSD Family, Beginning October 10, 2022, the district will begin making picture IDs for all students and staff. Students will begin using their IDs for breakfast and lunch. This process is new, therefore, we ask for patience from all as we make this transition.

Hello LCSD, Reminder: Students will be out for the next two weeks ( Monday, September 26-October 7, 2022) on Fall Break! School will be back in session on October 10, 2022. Have a restful, yet productive break. We look forward to your return.

Hello LCSD, After-school tutoring will begin tomorrow September 20, 2022. After school will be held on Tuesday, Wednesday and Thursday of each week. Students will engage in hands on academic enrichment and physical activities. Transportation for eligible students is available. All students will need to be picked up by 6:00 p.m. We look forward to serving your child. Please contact your child's school for additional information or questions.